RapiDQ is a Cloud Based Data Quality product which has the ability to detect bad data quality and enrich it using various algorithms and techniques. RapiDQ works almost on any type of data source, be it Cloud based Apps, proprietary databases like Oracle, MSSQL, Teradata, DB2 or any flat files like csv, text, logs from servers, logs from applications etc. It also detects and enhances data from PDF files and various other unstructured data sources.
Importance of Data Quality
Managing the master data is a critical task for any organization. Master data is the critical business information supporting the transactional and analytical operations of the enterprise. In today's environment ,all small, medium and large enterprises are competing to build brand recognition, customer loyalty, reduce customer churn, and increase customer life time value. To achieve these, enterprises need IT systems to reach out to prospects/ customer with high quality data in terms of Customer Name, address, contact number, Region, Pin code, Customer type, Customer Status, Customer Account Number etc.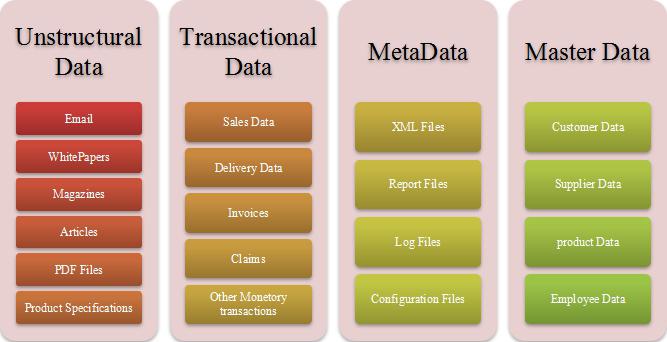 One can manage data by:
Data Discovery/Profiling: This activity determines the various sources of the master data in the corporate environment. During this stage the producer and consumer of the master data is determined.
Data Analysis: This activity mainly focuses on matching, standardizing the master data identified in the previous step and helps in performing the data governance. The MDM Service provides various activities for retrieving the data from various sources and listing out all the data quality issues.
Data Cleansing and enrichment: The next step is to perform the cleansing on the inconsistent data identified during the analysis process. Some of the activities in this process include

Normalize Data Formats: Get all the data to a common format.
Replace Missing Values: Update all the missing values for possible fields.
Standardize Values: Change the formats, metrics etc. to a standard value for further simplifying and cleansing the data.
Get a Golden Record: In case of duplicate records, identify the golden record based on the customer requirement.
Managing data leads to key benefits like customer satisfaction leading to customer loyalty, product traceability, risk free inventory, regulatory adherence, accurate analysis, tangible improvements.
Why RapiDQ
Below is a overview of the Key Features and Capabilities of RapiDQ.
RapidDQ Key Highlights
Address Enrichment: Enrich the Customer/Supplier Address with accurrate standard data using the address enrichment service.
Data De-duplication: De-duplicate the customer/supplier data and enrich the missing records with RapidDQ Algorithm. De-duplicate product data based on various parameters to rich the product catalog.
Quality Dashboard: Get Real Time uality Dashboard. Enabling customer to Discover Visualize and automate quality Process.
Highly Compatible: RapidDQ is highly compatible product which detescts bad data fromvarius types of data sources and enhace data quality with multiple algorithms.
Data Quality on yhe Go: Rapid DQ cloud data service aligns itself to any screen size for easy access on yhe go using cellphone or a tablet.
Data Consistency: With data across multiple enterprise systems for a global organizations, it is important to maintain a single version of truth in order to increase the operational efficiency. RapiDQ will enable continuous Data Quality Monitoring and fixing the issues across all the enterprise systems.
Data De-Duplication: With RapiDQ De-duplication algorithm, the golden record for the master data is just a click away.
Data Validation: With RapiDQ data Validation, fill in the missing details of master data with pre-defined algorithms.