In any organization, Its Employees are the key assets.it is vital to ensure employees are constantly kept engaged in activities within the organization ensures they have consistent growth in their carrier. Oracle Fusion Talent management SolutionHelpsend-to-end talent management right from finding the talent, nurturing them and retaining them in the organization.It Provides insights to enterprise wide KPIs with embedded decision-making tools. Integrationbetween Fusion Talent Management and an ERP systemhelps Human Resource team identify various organization roles and responsibilities associated with the employee and accordingly elevate the user experience.
Solution with eZintegrations
eZintegrations provide Fusion Talent Management Integration with ERP, which enables seamless integration of Workflow Structure, Employee information, Goals and compensation information which can be effectively used to Identify new employee assignments based on availability, Update Employee incentives in order to create a competitive work environment.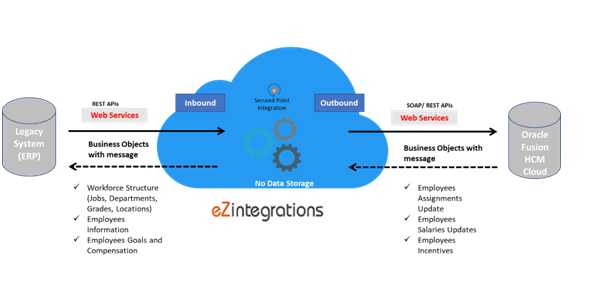 Value Prepositions
Integrated Workflow and Business Process: Accurately Track employee progress on task and ensure employee is productive. This helps maximise Staff performance.
Single Data Entry Points: With the ERP and Fusion Talent System seamlessly integrated, Data remains accurate across enterprise resulting in lesser maintenance costs.
Accurate Payments and Incentive Programs: Ensure employees are paid accurately and any extra effort by employee made can be identified and incentives can be accordingly announced.