Oracle WMS Cloud supports a feature to manage the incoming and outgoing of trailers and contents in the yard which gives organizations better inventory visibility.
One can monitor the movement of trucks and trailers in their manufacturing facility, warehouse, or distribution centre.
The need of the hour is to gain the competitive advantage in the race towards better supply chain visibility. To be in the front, the challenges to be addressed are:
optimize inventory management,
lower inventory levels,
shorten order cycle times and
provide better fill rates
In order to accomplish these, it requires maximizing inventory flow inside the facility and outside in the yard as well. In order to have smooth yard operations, it is important to have real-time location and status information about trailers, parking spots, dock doors, and personnel.
Oracle WMS Cloud yard management has made it possible to
check-in appointments to receiving dock doors or new yard locations
locate shipments in trailers
provide insight into trailers in the yard
provide status of goods in trailers
expedite unloading high priority trailers and shipments needed for order fulfilment
Oracle WMS Cloud enabled yard management helps in managing and tracking the flow of trailers and their contents into, within, and out of the yards of facilities such as distribution centres.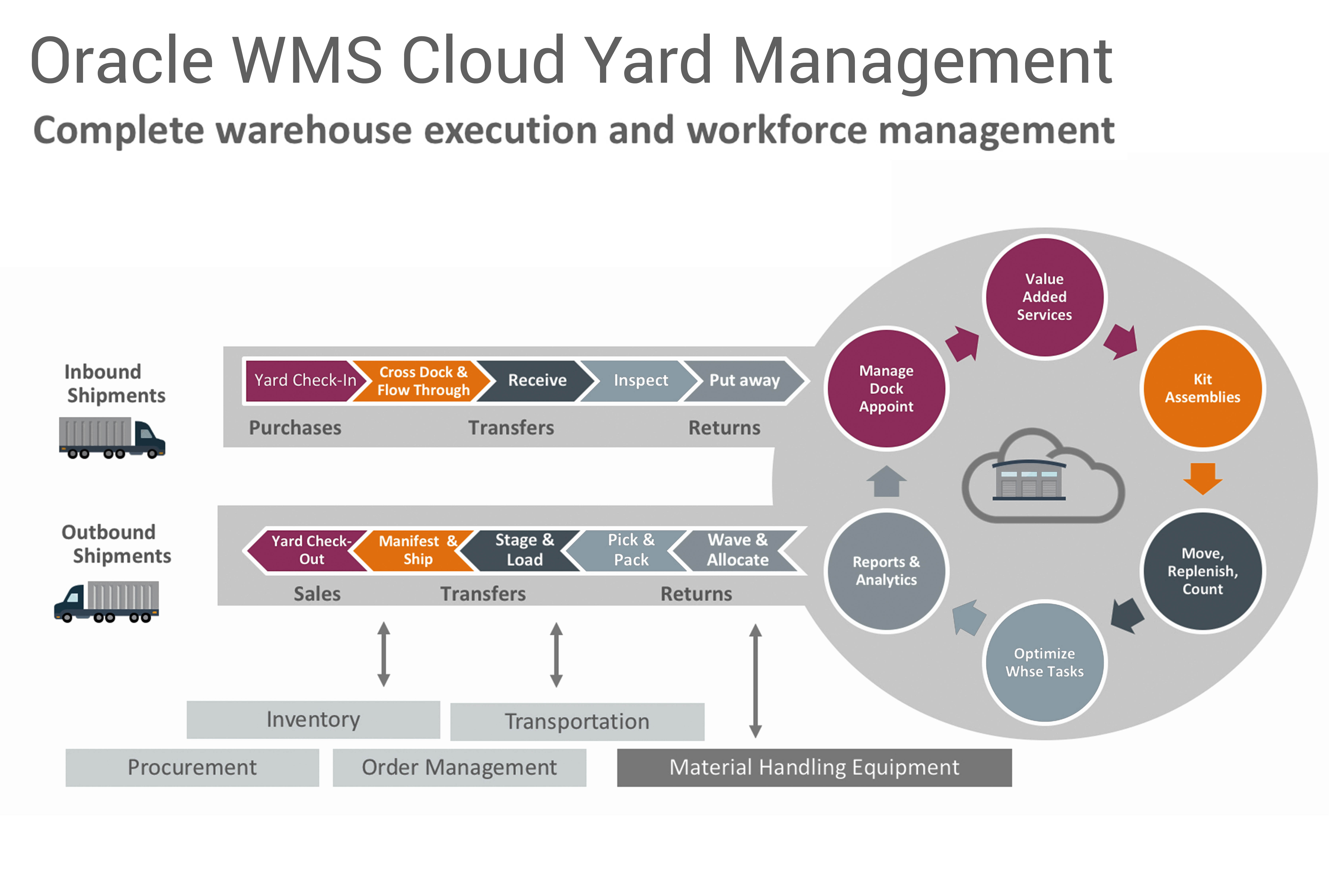 Reference: Oracle Docs
One of the key highlights of the Oracle Yard Management is that it enables manufacturing, and distribution organizations to improve their order fulfilment and logistics operations by extending supply chain visibility and process automation into the yard, which translates to better productivity and lower costs.
Key Benefits with Oracle WMS Cloud Yard Management
Efficient Trailer management
End to End visibility across facilities and the enterprise
Reduced costs related to stock-outs
Improved fulfilment and logistics
Increased throughput for Yards and Facilities
Key Features with Oracle WMS Cloud Yard Management
Multi-facility and multi-enterprise – ability to have one-yard service multiple facilities.
Monitor yard activity, space availability and perform check-in and check-out transactions via Mobile.
Collaborative dock scheduling – Schedule dock appointments directly within Oracle Yard Management.
Equipment check-in and check-out – Check-in and check-out yard equipment and capture relevant information Real-time visibility of yard equipment and the contents.
RFID and Mobile RF enabled – Use mobile RF devices or integrate with RFID/RTLS solutions.
Seamless integration with Oracle Inventory Management, Oracle Warehouse Management and Oracle Transportation Management.
Oracle WMS Cloud does bring a lot of capabilities and features which is future of Logistics.
Oracle Yard Management within the Oracle WMS Cloud is an exceptional way to be future ready and be competitive in the market.